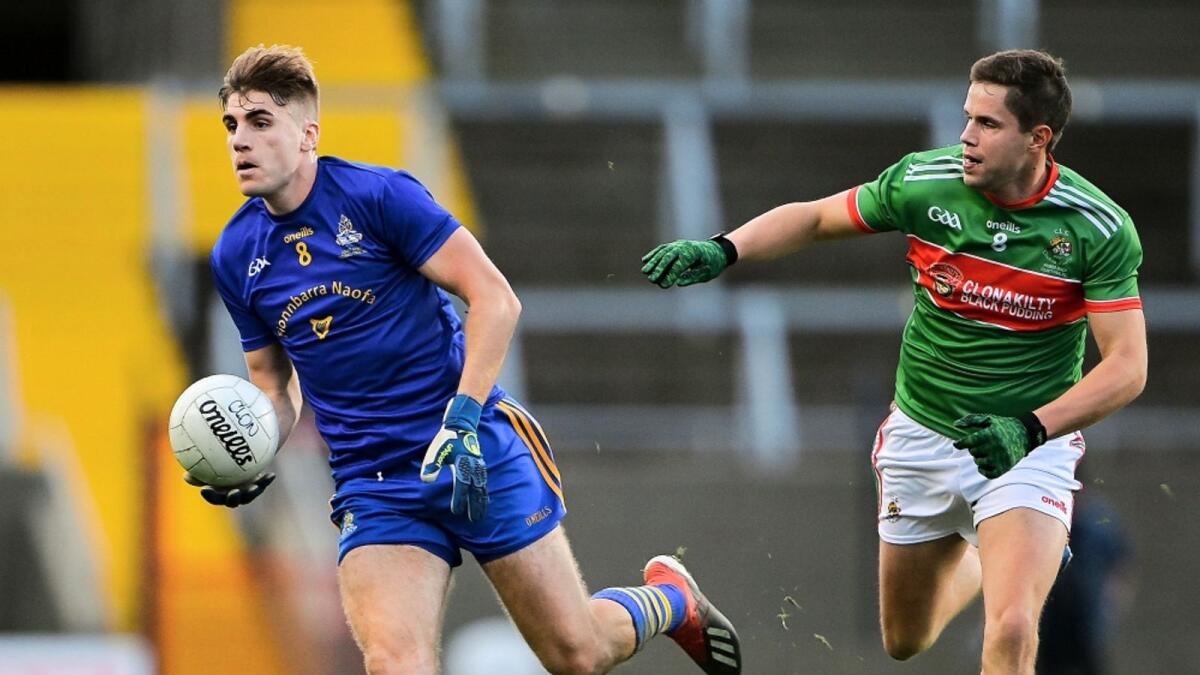 Football semi-finals conclude hectic season
Two out of the three Cork men's clubs were successful in making their respective finals in the AIB Munster Championship last weekend. This weekend the emphasis is on football with the three Cork champions in semi-final action with all enjoying home advantage. What are the chances of all 3 winning?
Junior
Cork v Kerry clashes at any level always generate huge excitement and when you are near neighbours, it is even more interesting and such is the case when these two collide on Saturday.
Over the years Kerry clubs have dominated this competition and always have the edge over Cork opposition. I think Knocknagree were the last Cork team to defeat a club from the Kingdom at this level.
Boherbue will endeavour to break that trend on Saturday well aware though that they face a stiff test. Gneeveguilla took extra-time to get the better of Skellig Rangers in the Kerry final but that win will give them confidence, especially as they lost the delayed 2020 final last September.
They have excellent players in Sean O'Keeffe, Pa Warren, Jack Cremin and Paul O'Leary whose points got them over the line in the county final. Conor O'Herlihy is another with an eye for goal, while Con Buckley, Dubai-based Padraig Doyle, Padraig O'Connor and Pat Brosnan are others who will look to extend Gneeveguilla's season into January.
Boherbue won a very exciting Cork championship and then had the easiest of wins over Ballyvaughan from Clare in the quarter-final. In many ways despite the one sided nature of the contest, it was ideal as it got the minds focussed quickly after the county final, and put their celebrations on hold.
There is a nice balance to the newly crowned Cork champions and they have been involved in some exciting battles over the last few years and that should be ideal preparation for this encounter.
Kevin Murphy is a very experienced goalkeeper and is fronted by a dependable defence led by Niall Murphy, Jack O'Keeffe and Mikie O'Gorman, their midfield pairing of Patrick Daly and Brian Murphy is hard working and effective.
The attack has really delivered when needed most all year particularly Jerry O'Connor and you can be sure the Kerry champions will be aware of the threat he poses. Liam Moynihan, Adrian Murphy and Alan O'Connor are all capable of scoring even if the radar was slightly off in the last outing.
However they will have worked on that and while Gneeveguilla will start as favourites, a Boherbue win should not be ruled out.
Intermediate
With the clock ticking into the 60th minute in the recent county final, Newmarket's season looked all but over as they trailed neighbours Kanturk. However they showed remarkable resilience to hit the last three points for what was an unlikely and remarkable win.
That they refused to countenance defeat has been a hallmark of this exciting run and one they will hope to maintain when they make the short trip to Mallow for this clash.
Time was of course when a Cork v Clare encounter in football would more often than not result in a victory for the Cork side, but times have changed and football in the Banner county has improved immeasurably in recent years.
Corofin were plying their trade at senior level up to two years ago and how quickly they have regained that status is an indication that this is a redoubtable outfit, who saw off the Limerick champions in the quarter-final.
That win came on the back of a strong second-half display after they struggled in the opening half, with Diarmuid Cahill their chief scorer with 1-7, while John Rees, Kevin Keane, Fionn Clancy, Gearoid Kelly and Gearoid Cahill all made important contributions.
Newmarket will look to start this game in the manner in which they finished the county final, by imposing themselves on Corofin and not allow them to build any degree of momentum. There is a nice blend led by the very experienced Bart Daly in defence. His composure in the win over Kanturk was key, while those around him in defence like captain TJ Brosnan, Alan Ryan and Mikey Browne responded in similar fashion.
They also overcame the loss of midfielder Tim Murphy, with Darren O'Keeffe and Mikey Cottrell coping admirably.
Kevin O'Sullivan was excellent at centre-forward, while Ryan and Conor O'Keeffe chipped in with vital scores including the match winning points and Cathal Browne is also a dangerous forward.
Newmarket even without key players with injuries, have proved very hard to beat and with a Munster final place at stake, I expect them to get over the line, but a consistent performance will be needed if that is to be achieved.
Senior
A second venture in four years for the 'Barr's into the provincial championship but this time the circumstances are totally different.
The last outing came a week after bridging a 30 year gap since their last county title win; it was a trip to Dr Croke's home ground and there was always only going to be one outcome - a defeat and a heavy one at that.
This time round they are much better prepared as manager Paul O'Keeffe explained: "Well that year it was hard to focus as we had ended a long wait for a county title. This year we were back training on the Thursday; now we did celebrate, but we made a conscious decision to give this championship a real go."
Paul also makes the point that the club has a good record in the Munster arena. "We have, the last result apart, and it is something we want to maintain and since the win over Clonakilty, we have trained well, no injuries to contend with and we are really looking forward to the game."
The one concern is the lack of a game. "That is only a slight drawback while Eire Og have the benefit of a quarter-final, but we will be ready."
Paul did see Eire Og play and was suitably impressed. "I was and they won a good game that day, (against Loughmore-Castleiney). They are big strong team and in many respects they play a similar style to Clonakilty which can be hard to break down, but we have prepared for that and hopefully we can get the result."
There is a nice mix of youth and experience in the side and Paul is confident that the leaders on the team will once again come to the fore. "All year Ian (Maguire) Stephen (Sherlock) and Michael (Shields) have been brilliant and I have no doubt they will be big players on Sunday."
In their win over Loughmore, which went to extra-time, Eire Og fell behind but struck for two crucial goals from Aaron Fitzgerald and Mark McInerney, with Dara Walsh, Eimhin Courtney, Einne O'Connor, Gavin Cooney and Philip Talty all making important contributions. But they will miss their midfielder Darren O'Neill who picked a straight red-card in that game.
It's been a roller coaster of a campaign for the 'Barr's from their opening games against Ballincollig, the drama of the penalty shoot out in the semi-final with Castlehaven and the nerve wracking county final, through it all they have grown in stature and get better with each outing.
There is a lot of quality all over the field and the depth of the panel has been crucial. John Kerins is an exceptional goalkeeper, Sam Ryan, Billy Hennessey and Eoin O'Connor are top class defenders, Maguire drives them on in midfield with Brian Hayes - although carrying a slight knock - an able and comfortable partner.
No doubt Sherlock is the fulcrum of the attack, Conor McCrickard is a key operator, with Colm Barrrett, Cillian Myers Murray and Cian Walsh also offering scoring options.
Barr's will start as favourites and it is a tag they will justify and progress to the final in January where the expected opposition should be Kerry's Austin Stack's.
On a lighter note, I said to Paul that if they win on Sunday, it might spoil their Christmas having to train for a January decider, with a huge smile on his face he replied "no, it will not!".
Best of luck to all three Cork clubs and hopefully they can end the season on a winning note.
Thanks
This is my final column of what has been a dramatic season, full of highs and lows at both club and county level. Thanks to Brian and Niamh Aine at HQ for allowing me the extra few hours to submit my ramblings - much appreciated.
To all players, officials, coaches and selectors at club and county including camogie and Ladies Football for their patience and co-operation at all times, it was greatly appreciated. To the board officers at divisional and club level, particularly former Cork PRO Joe Blake for their help, Louise Weldon of the Camogie Board, Ashling Murphy Ladies Football and before Ashling, Peter O'Leary - many thanks.
The season began on 9 May with an NHL game and the curtain comes down on Sunday in Páirc Uí Rinn, it's been eventful and challenging at times but enjoyable all the same. Congrats to all the winners, commiserations to those that did not win, but as they say, 'we go again' in pursuit of glory.
It was a sad year also with so many outstanding Gaels passing to their eternal reward, too many to mention, but Tommy Lynch's death evoked so much sadness considering his presence, wit, good humour most of the time, and welcome in Páirc Uí Rinn and Páirc Uí Chaoimh over many many years. Sincere sympathy to all on their losses.
So enjoy the Christmas, stay safe and here's to another exciting season in 2022. Happy Christmas and a prosperous New Year to all. Corcaigh abu!