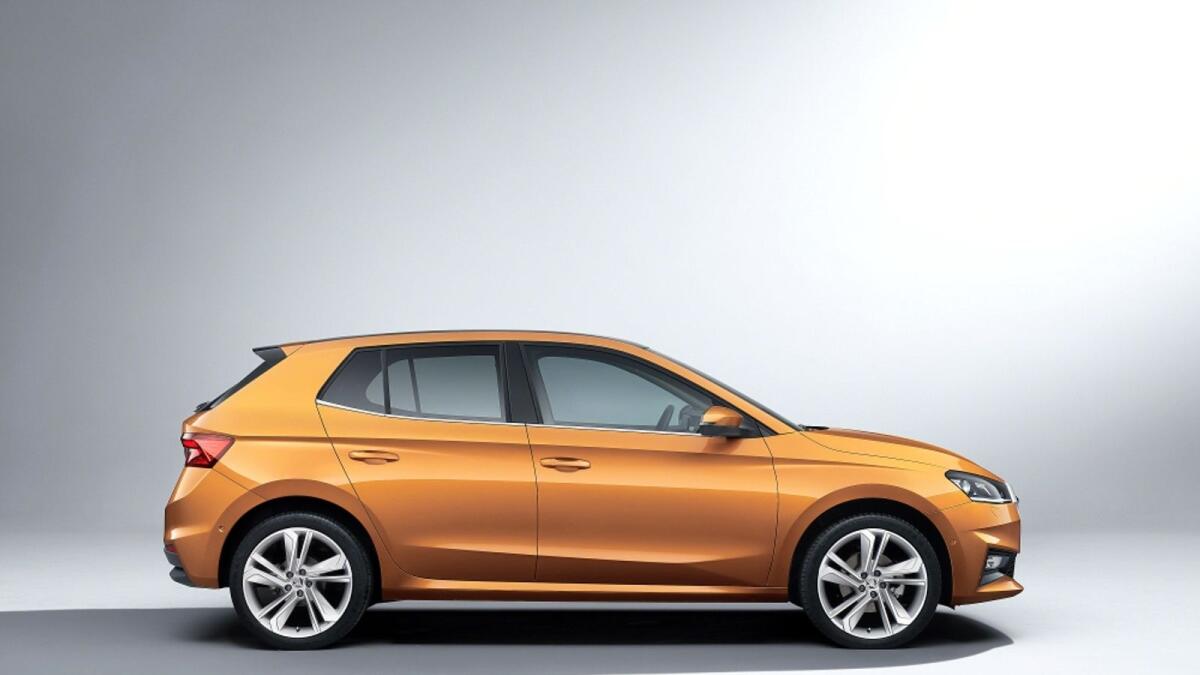 Skoda's new Fabia arrives later this year
You know cars are getting expensive when even the new Skoda Fabia is going to cost close to €20,000.
Skoda has just revealed its new smallest hatchback, and it won't be on sale in Ireland until December of this year, but with the Irish arm of the Czech car maker talking of a sub-€20,000 entry price expected you can see quite how pricey things have become.
The last time we got an all new Fabia, back in 2014, the entry price was a rather more accessible €13,895. Since then, European mandates for increased standard safety items — such as tyre pressure monitors, automated emergency calling, and autonomous braking systems — have meant that even the smallest cars now come with medium-sized price tags.
Then again, it's a slight stretch of the imagination to see the new Fabia as a small car. At 4.1 metres long, it's actually about 100mm longer than a 1992 Volkswagen Golf. Skoda being Skoda, the Czech engineers have taken advantage of tthis to make the new Fabia even more practical.
The packaging advantages of switching the Fabia to the VW Group MQB-A0 platform - also found under the Seat Ibiza, VW Polo, and a smattering of other cars - means that the Fabia's boot has been extended from 330 litres in the old model to a Golf-rivalling 380 litres now. So although you're paying more for your Fabia, you are quite literally getting more Fabia.
The overall style is quite similar to that of the old model, but the new Fabia is wider and sleeker-looking than before, and uses the more upright 'face', with a vast radiator grille, as essayed by the larger Octavia and Enyaq.
Unlike the Enyaq, it won't get an all electric version — car makers are currently struggling to make the sums of fully-electric drive, and the sort of price that a small-car buyer expects to pay, meet in the middle. Even with that close-to-€20,000 price tag, the new Fabia will remain resolutely petrol powered, with a choice of 65hp, 80hp, 95hp, and 110hp 1.0 litre turbocharged three-cylinder petrol engines, and a 150hp 1.5 litre four cylinder turbocharged petrol, which may or may not — most likely not — be offered in Ireland. Six-speed manual and seven-speed DSG automatic gearboxes will, of course, be available.
Diesel? Forget it. No one in the small car market buys a diesel anymore, but there is the faint possibility of a mild-hybrid version to take on the likes of the Toyota Yaris and Renault Clio in the future.
For anyone who's worried about the environmental effect of sticking with a simpler petrol engine, perhaps the Fabia's projected 900km range (range anxiety? What's that?) from a 50l fuel tank will assuage that. Bereft of batteries they may be, but these engines are fuel-sippers, not gulpers.
Inside, the cabin takes clear minimalist inspiration from the current Octavia and expect big touchscreens, digital instruments, online connectivity and phone-connection options, and clever LED lights on top-spec models. Thankfully, Skoda's kept simple, mechanical heater controls, but the USB sockets now use the latest-spec USB-C connectors, so better get down to CompuB for some adapters before you buy.
Taking the covers off the new Fabia, Thomas Schäfer, Skoda's Chief Executive, said: "The Fabia has been an integral part of our portfolio for over 20 years and embodies the core values of our brand like no other model. The latest generation has everything it takes to seamlessly build on the success of its predecessors. It offers more space than its competitors, perfect connectivity, advanced assistance systems and an emotive design – in other words, all you need, and a little more."
How much will it actually cost when it arrives? Well, Skoda Ireland's not telling us for certain yet, but we reckon that the just updated Volkswagen Polo will be priced from about €19,500 when it gets to Irish shores at basically the same time, so we'll stick a pin in a base price of €18,995 for the new Fabia.