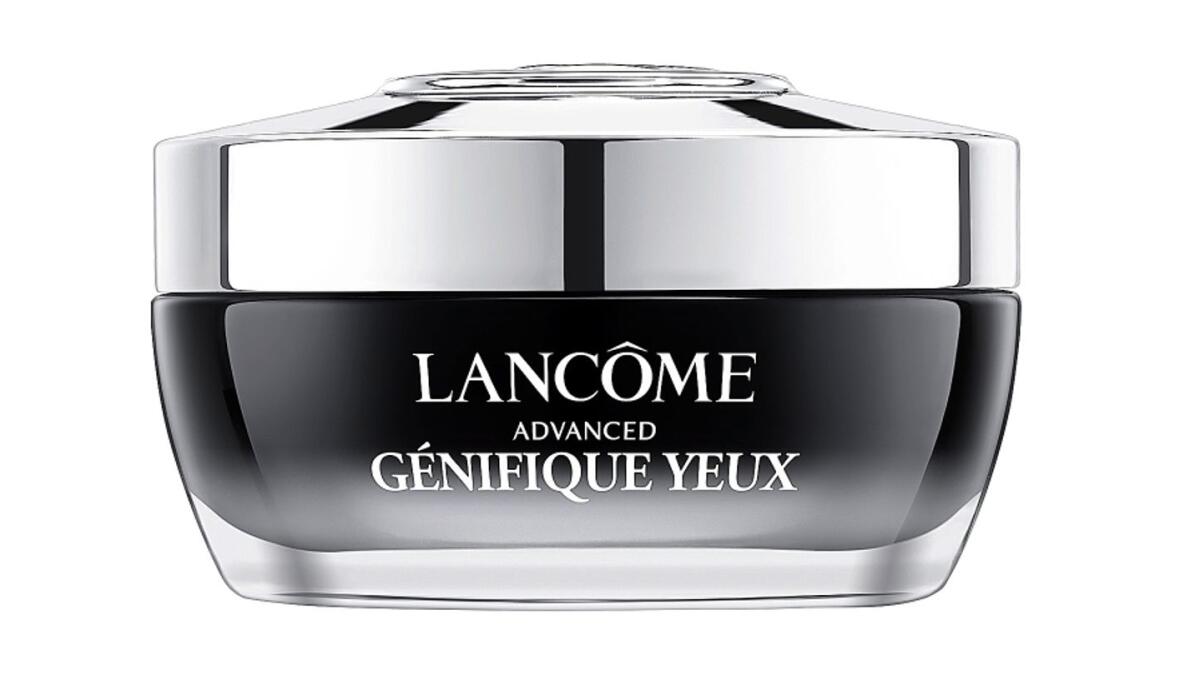 Eyes on the prize
So it's all about eyes this week and there have been some really exciting launches recently.
From mascara to serums it's all about keeping your peepers happy and healthy.
Some people think that eye creams are non-essential but I disagree.
On average the skin around the eyes is three times thinner than that of the face. It is under considerable strain due to the action of 22 muscles and the fact that we blink around 10,000 times a day. With a poor barrier function due to lower lipid production, the eye contour is a fragile area which needs specific care.
Lancome
Its Advanced Génifique Yeux, €54.50, is a patented complex of seven pre- and pro-biotic fractions chosen for their complementary action on the skin microbiome and its environment.
Within this highly-concentrated complex, an optimal balance of three prebiotics helps create the ideal environment for the skin microbiome. Iridescent pearly white, it comes in a decadent yet silky gel cream texture that feels velvety to the touch, bouncing onto the skin and absorbing rapidly. Melting instantly, it envelops the skin with a weightless film that protects and hydrates, without ever feeling sticky.
Thanks to the blurring, mattifying texture formulated with a unique combination of mica, alumina pearls and a white mineral pigment, the skin is instantly sublimated. It is immediately luminous, more even in tone and feels soft and smoother.
From the first application, it brightens eye contour and smooths fine lines. It is perfect for daytime wear to give a bright eyed effect. I have been using this for the last number of weeks and see a big difference in the brightness. Less concealer and more hydration is instant youth!
Estée Lauder
Its upgraded new Advanced Night Repair Eye Concentrate Matrix, €64, has new Chronolux Power Signal Technology for fast visible renewal and youth generating power. It also has innovative 360° Mesh Matrix Technology for cushioning support against micro-movements.
With the new custom-designed cryo-steel wand, skin around the delicate eye area is instantly cooled by 2°C. Used day and night, skin feels firmer, softer and smoother, and undereye lines, crow's feet and lines appear reduced, leaving eyes looking radiant and wide-awake.
Sothys
Anti Puffiness Cryo Roll-On, €43, has been formulated to visibly combat puffiness and signs of fatigue around the eyes. It is a great one if you suffer with eye strain as a top up serum throughout the day. You apply to the lower eyelid using the three balls while pressing down lightly on the tube. Smooth the product into the skin from the inner corner of the eye working towards the temple. The product is even more refreshing if you store the tube in the fridge for a few hours.
SVR Ampoule Relax
This is a night serum that soothes, relaxes and helps regenerate the skin around the eye for €32.50. The exclusive GABA-enriched formula acts as a skin relaxant to de-crumple and tone skin. The eye area looks rested, while wrinkles and fine lines are visibly smoothed. The formula incorporates a post-biotic and combined with massage it encourages micro-circulation to significantly correct dark circles and under-eye bags. Plus, it comes with an innovative applicator!
The pipette is designed to massage the product directly into the targeted area for an instant comforting effect, maximising the relaxing action. No more tired-looking eyes and deep wrinkles on waking. The eye area is regenerated, rested and smoothed, like after a long restorative sleep.
Clarins
Clarins make-up is infused with skincare benefits and now Supra Lift & Curl Mascara, €29, is too. It offers all the lash-lifting benefits one would expect from a professional treatment, but at home.
What's the difference then?
Skin care expertise is in this new mascara to help create a more 'open' eye area and boost lashes. You no longer need to go to a professional to get a lash lift. Thanks to Clarins and the new Supra Lift & Curl Mascara, you can achieve a lifted lash look instantly without damaging your lashes.
Your lashes could look better curled, better defined, and lifted along with enhanced volume. It provides a combination of make-up results and effective lash care. The resulting longer healthy lashes won't compromise on the fluttery effect.