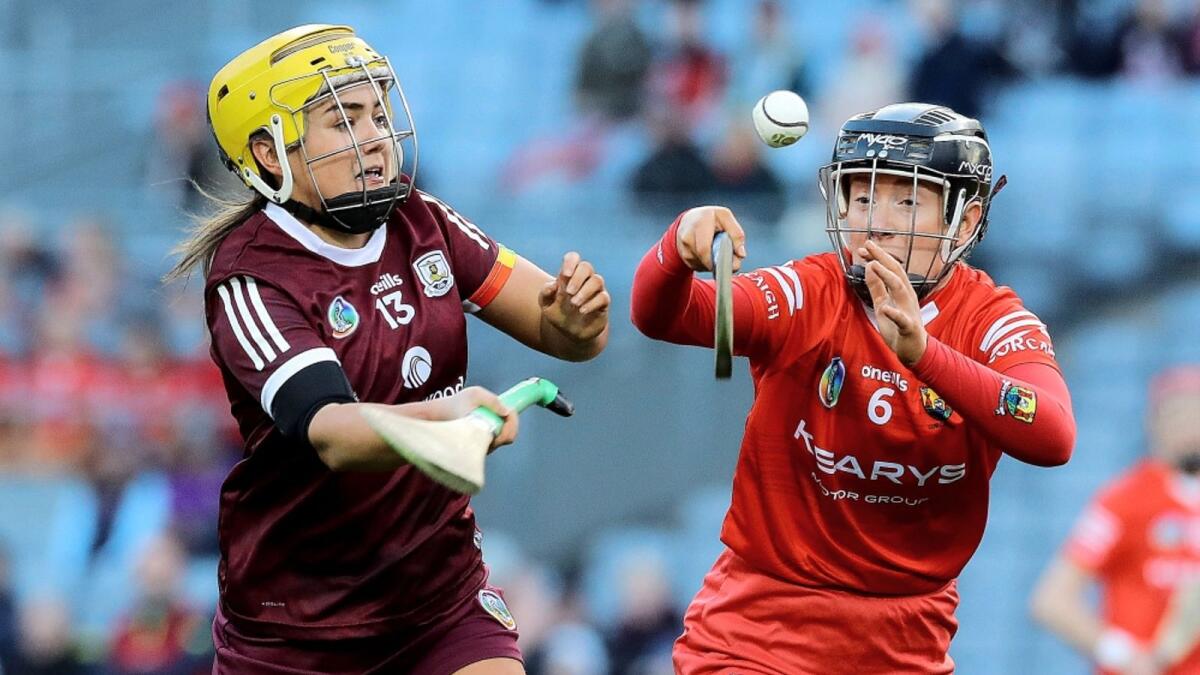 All-Ireland Final repeat to kick-start Munster Championship
For the first time in 3 years, the round-robin format in the Munster Senior Hurling Championship returns and it will also be Kieran Kingston's first involvement in this format, what an opener to have!
A camogie curtain-raiser in the Páirc and under 20 hurling and football games round out the Easter weekend.
Munster Senior Hurling Championship
Cork v Limerick on Sunday at Páirc Uí Chaoimh at 4pm
In the immediate aftermath of the league final loss, Cork manager Kieran Kingston said he was "naturally very disappointed with the result but the 'mocks' are now over and the real exams start in two weeks time".
And what an exam to start with in the Munster and All-Ireland champions Limerick. "We all know how good a team Limerick are and that will be a real test."
Equally Limerick's Gearoid Hegarty is also looking forward to the championship after a league campaign that only yielded 3 points from 10 on offer.
"It was a poor campaign but we learned a lot from it. We have trained incredibly hard since early January; the hunger and desire is still there and we are right and ready to go."
Ominous words from a player that is central to Limerick's cause, even if he does play on the edge, but all teams need players like Hegarty and would Cork take him? You bet we would.
The key question is how Cork will react to the defeat by Waterford; in the end the winning margin was only 6 points, but it felt like a lot more.
Cork's total of 1-23 would win many a match but when you concede 4 goals it's hard to win any game and that is surely an area that Cork's management team will have worked on since that night in Thurles.
Will the defensive unit be altered in personnel or formation?
Daire O'Leary is ruled out with injury and one or two are reported to be carrying knocks but maybe not enough to keep them out of the game.
Niall O'Leary didn't feature the last night and he might come into the equation as Cork will want to eradicate the errors that allowed Waterford in for the match winning
goals.
There is also a view that Mark Coleman has more to offer in a variety of positions other then centre-back and that Ciaran Joyce is more suited to a more central role in defence.
Patrick Collins will be disappointed at a couple of the goals that went past him, while equally looking for a bit more protection from those in front of him.
Tim O'Mahoney, Robert Downey, Niall Cahalane and Sean O'Leary Hayes will all await the team announcement in anticipation of a starting role.
What Limerick attacking formation will they face? Seamus Flanagan is rated extremely doubtful and he would be a loss as his physical presence carries a huge threat.
Hegarty will feature along with Aaron Gillane, Cian Lynch and possibly Graeme Mulcahy but whatever attacking unit John Kiely puts in place, they will really test the Cork defence.
The midfield battle will also be intriguing even at times it's an area that can and often is bypassed, but with the style that these two sides play, it generally is a key area.
Both like to play the running game with possession the main aim, it looks great when it works but when it breaks down as Cork's did in the league final, you are immediately punished.
Darragh Fitzgibbon was excellent for the best part of the league but like so many, he had a poor final. He has the capacity to bounce back, it's vital that he does.
Which 6 will get the nod in the Cork attack to face the champions?
Patrick Horgan is a certain starter, Shane Kingston, Robbie O'Flynn the same, but then you look at the rest.
Conor Lehane, Shane Barrett, Alan Connolly, Seamus Harnedy, Jack O'Connor and Conor Cahalane have all seen lots of game time in the league and at various stages made important contributions leaving the management team with a number of options before finally settling on numbers 10 to 15.
Whoever gets the nod, they will face a formidable defence with Declan Hannon the main man, and with Sean Finn and Kyle Hayes also displaying the form that has carried them to so much success in the last few years, and they front a top class custodian in Nicky Quaid.
Recent meetings in the championship have gone Limerick's way and with ease it must be said. Cork did win the league meeting a few weeks ago, but this is the real deal and the champions' focus all year has been on this game.
Limerick's game plan is well known, Cian Lynch among others pulls the strings; what will Cork do to counteract that? They will surely have learned from the All-Ireland Final, that afternoon he set the trend, if allowed to do so again, it could be another long afternoon.
Cork matched their intensity in that league match, Limerick certainly won't allow that to happen again.
The outcome of this game could shape the season for both; the following week Cork are free, while Limerick are at home to Waterford, could they both enter that on the back of first round wins?
Limerick are the clearest of favourites and it's impossible to argue with that tag, but maybe in a strange way losing to Waterford might actually work for Cork: expectations are lowered, an extra step in training as a reaction you would hope, and with a large Rebel band of followers - can they do what they did in the last year of the round-robin?
Well beaten by Tipperary in a first round game in Páirc Uí Chaoimh, a week later they went to the Gaelic Grounds and won.
Limerick should win, but never rule out Cork. Go for it lads.
The game is live on C103.
The other game in the championship is the meeting of Waterford and Tipperary in Walsh Park at 2pm on Sunday and here the home side buoyed by their league success are expected to get the better of Colm Bonnar's side whose form has been poor and the absence of Seamus Callanan reduces their threat in attack.
Under 20 championships
Cork and Limerick will meet twice in this grade in the space of 3 days in both football and hurling.
First up are the footballers in a semi-final in the Gaelic Grounds on Monday with a 7pm start.
Limerick had the benefit of a quarter-final win over Waterford and that gives them a slight advantage, and with the seniors enjoying a good league campaign, football is on an upward curve so they will be hard to beat.
As for Cork they had 3 games in the John Kerin's Cup and will have learned plenty in that competition even if there selection was limited with injuries and college commitments.
Dan Peet, Eoin Walsh, Tommy Walsh, Michael O'Neill and Darragh Cashman should all feature and Cork will be favoured to progress to the final where it is expected Kerry will provide the opposition.
On Wednesday next Cork will play their second game in the hurling championship and depending on how they fared last night in Sixmilebridge against Clare, it could be a vital game with top of the group and with it home advantage in the semi-final for the winners on offer.
Páirc Uí Rinn will host this game with a 7pm start.
Camogie
It's well documented by now that the planned curtain-raiser in Páirc Uí Chaoimh on Sunday at 2pm of Cork v Waterford in the Munster Senior Championship is off as the latter are unable to play on this date. It has now been re-scheduled for Sunday 24 April.
This means that the Intermediate Final of Cork v Kerry will now take place at the venue - an ideal opportunity for both teams to savour the occasion.
Cork had an extended league run and with good players in Leanne O'Sullivan, Niamh O'Leary, Lauren Callanan, Rachel Harty, Finola Neville and Joanne Casey, they will be expected to win.
No joy for the seniors in Croke Park last Saturday night, where the impact of the Galway bench swung the game the way of the All-Ireland champions.
Cork will regret their failure to build on their early 2nd half goal, but with several players featuring in HQ for the very first time, it will certainly bring them on as a group.
A number of players are due to return to the panel among them Hannah Looney and Orla Cronin, while Sorcha McCartan's injury should see her available for the upcoming championship.
Apart for not getting the cup on offer, overall the league will have had more plusses than minuses for Matthew Twomey and his management team, and they can look forward to the championship with confidence.