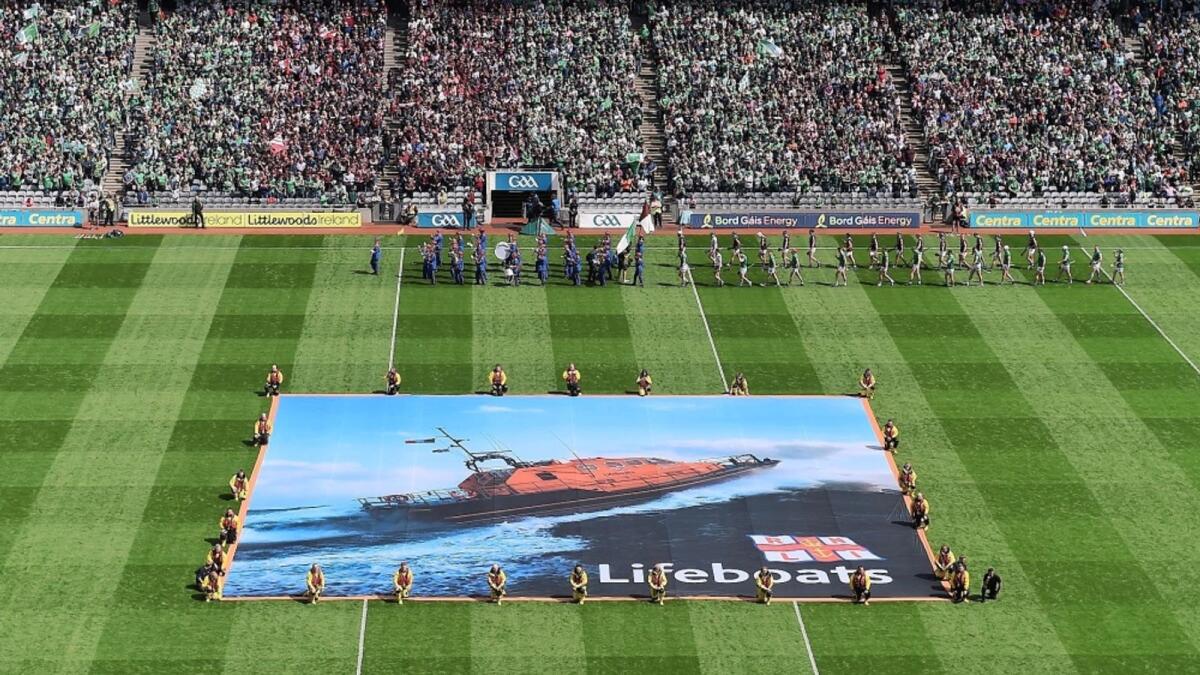 RNLI unfurl a flag at Croker
Cork lifeboat crews took to the Croke Park pitch on Sunday to promote water safety.
RNLI volunteers were on the pitch with other lifeboat volunteers from around Ireland before Sunday's All-Ireland Senior Hurling Semi-Final at Croke Park, to promote the charity's partnership with the GAA on water safety.
Before Limerick and Galway battled it out for a place in the final and in front of a packed stadium and TV audience, RNLI volunteers, dressed in their full kit, unfurled a giant flag showing an all-weather lifeboat in action.
Courtmacsherry RNLI was represented by Vincent O'Donovan, Tadgh McCarthy and Denis Murphy. Kinsale RNLI was represented by Gerard Quinn and Kevin Daly attended for Youghal RNLI.
The RNLI and GAA water safety partnership was established in 2017 to raise awareness of drowning prevention and to educate communities on how to stay safe in and around the water.
The partnership is part of the GAA Healthy Clubs' programme and has seen RNLI lifeboat crew visiting GAA clubs around Ireland to deliver water safety talks to all age groups. Within a 10km radius of the 46 RNLI Lifeboat Stations on the island of Ireland, there are 333 GAA clubs. From the first year of the partnership, the GAA have invited the RNLI to Croke Park for an All-Ireland Semi-Final, where the charity has reached new audiences that may someday save a life themselves with water safety advice.
There was more Cork input on the day, when the GAA played the RNLI partnership film which was produced recently at Courtmacsherry Lifeboat Station and Barryroe GAA Club. It captures a day in the life of a volunteer and the vital role they play in our communities.
Courtmacsherry RNLI Launching Authority Vincent O'Donovan said: "We put a lot of work into our few minutes on the pitch at Croke Park but what a wonderful stage to have for our water safety partnership.
"To unfurl a flag with an all-weather lifeboat, surrounded by lifeboat crew, is a powerful message. Lifeboat crew are there if they are needed but learning about water safety could save a life before something serious happens."
Adding his support, Kinsale RNLI Water Safety Officer Gerard Quinn said: "The work being done through this partnership is so important. Across the network of lifeboat stations and the huge number of GAA clubs on this island, we are in a great position to share water safety advice far and wide.
"With so many people holidaying at home and water activities becoming even more popular, it's a good time to have conversations about water safety. I'd encourage any GAA club to get in touch with their nearest station and we can get a water safety talk set up. From knowing what do when you get into trouble, to what equipment you need for the activity you are taking part in, every bit of advice could save a life."