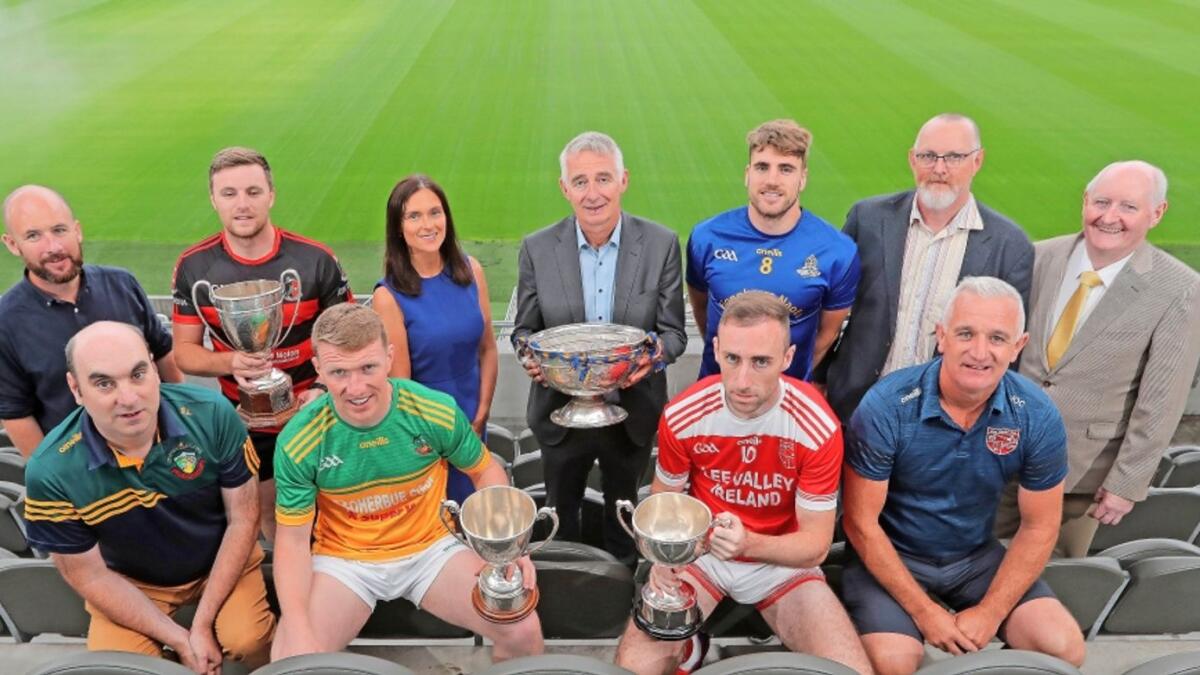 Defining weekend in football championships
The final round of the hurling championship certainly threw up some cracking games and surprising results, with calculators at the ready for most of the weekend, and the narrowest of margins decided a number of groups.
The downside is that for some clubs their hurling season came to end last weekend which in the long term cannot be good as the players affected will now have time on their hands and will in all probability turn to other codes to fill that void.
It's something that might be looked at going forward but now the focus switches to the final round of games in the Bon Secours County Football Championship in all grades.
It will hardly match the drama of last weekend, but you never know, there's a lot to play particularly in some grades, but in Premier Senior 4 places have already been decided in terms of qualification, while avoiding relegation will occupy the thoughts and aims of some high profile clubs.
Premier Senior
Group A is done and dusted with both St Finbarr's and Carbery Rangers already assured of advancing and when they meet in Ballinscarthy, the winners will in all probability secure the one semi-final spot on offer.
The 'Barr's have looked assured and confident in their wins to date with Steven Sherlock back in action adding another dimension to already talented group. Ian Maguire, Sam Ryan and John Kerins are playing well so they should make it 3 from 3, and given their hurlers also progressed, that would ease the pressure somewhat on their dual players.
Ballygarvan is the venue for the meeting of Carrigaline and Eire Og who are both pointless, so this result will determine who plays in the relegation play-off. With their hurlers already in that scenario, Eire Og will be very determined to avoid it. John Cooper is a doubt for the mid-Cork side but Colm O'Callaghan, Ronan O'Toole and Daniel Goulding might have enough to get them over the line.
In Group B Mallow are safely into at the very least the QF but Douglas who they play in Páirc Uí Rinn badly need the win if they are to keep their football season alive. They were semi-finalists last year and it would be a blow if they find themselves out of contention after this game. Sean Powter's return will help and with a bit more at stake, they might shade it.
Ballincollig and Valley Rovers meet in Kilmurry and this is a hard one to call and the outcome here will also impact on the game in Páirc Uí Rinn. Ballincollig produced a brilliant win in hurling last week and that might inspire the footballers to deliver something similar; if they can they could nick the points, but Valley's are a tough nut to crack.
In all probability this group could come down to scoring difference, so maybe Valley Rovers to join Mallow in progressing.
Nemo Rangers already have Group C wrapped up in terms of qualification but they will want to make the semi-final so their tussle with last year's runners up Clonakilty in Bandon should be a lively affair.
Clonakilty have just 1 point and with their West Cork rivals Castlehaven and Newcestown facing off in Rossmore their destiny is outside their control, as you would expect the 'Haven to win that one especially if the Cahalanes and Hurleys play as well as they did in the Nemo game.
Nemo themselves could be without Stephen Cronin, but Luke Connolly's class will tell and that and a more balanced should see them win.
So it's 'Barr's for the semi-final spot, Castlehaven and Valley Rovers to join Nemo Rangers, Mallow, Carbery Rangers and Carbery in the QFs.
It might be Carrigaline and Newcestown for a possible relegation play-off.
It's a 4pm start for all games on Sunday afternoon.
Senior A
It's very tight in a couple of the groups. In Group A, O'Donovan Rossa with 4 points are already qualified and their game with Clyda Rovers in Coachford who have 3 points will decide who tops this competitive group, a nod to the Skibb lads in this one.
A short few miles away in Coachford, Newmarket might just get the better of pointless Ilen Rovers and should that happen and O'Donovan Rossa win, scoring difference will determine 2nd place.
Group B is equally tight with 3 of the 4 teams in contention, and pointless Bandon face Ballingeary in Ballinacarriga where they could upset the odds but you would think the Gaelthacht side should win, while in Macroom, Kiskeam and Doheny's will in all probability produce a tight encounter, where a draw will do the Dunmanway side.
St Michael's - one of the most consistent teams in recent years - are safely into the knock-our phase and their clash with city rivals Bishopstown in Páirc Uí Rinn is a repeat of last year's clash which they won easily.
The 'Town had a big win over Knocknagree last time out and that will give them a huge boost, but will it be enough to extend their season?
For the first time in many years Knocknagree won't feature in the knock out stages of a major championship but they will want to avoid a relegation battle and that might be good enough to get them a badly needed win over Fermoy when that meet in Glantane.
Hard to predict who will get the second semi-final spot as O'Donovan Rossa look set to get one, while a Doheny's win might see them nick the second one, with St Michael's, Bishopstown, Clyda Rovers and Ballingeary making the QFs.
It looks like an all-West Cork clash of Ilen Rovers and Bandon in the relegation match.
7pm start on Saturday evening for all these games.
Premier Intermediate
Bantry Blues in Group B and Kanturk in Group C have done enough to progress, Bantry will be confident of beating Na Piarsaigh to possibly secure a semi-final spot when they meet in Dunmanay, while in Enniskeane, the meeting of Castletownbere and Aghada will determine the runners-up spot and a hesitant nod to the Beara lads.
Kanturk will also be chasing a semi-final spot when they play Macroom in Glantane and even if the latter have something to play for, the Duhallow side should prevail. Rockchapel might just have enough to condemn Naomh Aban to a third loss when they meet in Dromtarriffe.
Group A is really interesting: Nemo Rangers have 4 points, they play Iveleary in Bandon who have 2 points, the same as Cill Na Martra who meet pointless St Vincent's in Coachford - 3 of the 4 teams in contention.
Nemo are annoyed that they must play this game, along with all others at 2pm on Sunday afternoon, and many of their players must then tog out as subs for the senior game, bound to impact on preparation.
Nemo could lose and not qualify on 4 points as Cill Na Martra will be expected to account for St Vincent's, so picking 2 from 3 is not easy but will plump for Nemo and Cill Na Marta to progress.
That would leave Bantry and Kanturk in the semi-finals, with Cill Na Martra, Nemo Rangers, Rockchapel and Castletownbere in the QFs, while it looks like 2 from Na Piarsaigh, St Vincents and Naomh Aban will be in the relegation play-off.
Intermediate A
The key point in this championship is that the bottom team in each of the groups will be relegated to Premier Junior for next season, which means a lot at stake in all group games which have 2pm starts on Saturday afternoon.
Gabriel Rangers v Kilshannig - verdict Gabriel Rangers
Adrigole v Ballydesmond - verdict Adrigloe
Kildorrery v Glanworth - verdict Kildorrery
St Nick's v Glenville - verdict St Nick's
Milstreet v Glanmire - verdict Glanmire
Mitchelstown v Boherbue - verdict Mitchelstown
Aghabullogue v Ballinora - verdict Aghabullogue
St Finbarrs v Dromtarriffe - verdict St Finbarr's
Ladies Football
The third games in the Senior Championship are scheduled for Sunday in Group 1. Fermoy are at home to Eire Og, with Kinsale enjoying home advantage against Valley Rovers.
In Group 2, Bride Rovers play St Vals in Rathcormac, with Aghada making the trip to play Clonakilty, all games have 1pm starts.
Rebel Óg
The semi-finals of the Premier 1 Minor Hurling Championship semi-finals go ahead on Friday night in the Mardyke.
Douglas play Valley Rovers at 6.45pm with Midleton meeting Ballincollig at 8.15pm.
Camogie
The group stages of the SE Systems Senior Championship continues with plenty of interesting games down for the decision over the coming days.
It starts tonight (Thursday) in Belgooly at 6pm - Ballincollig v Enniskeane.
There are two games on Saturday in Castle Road. At 3.45pm, it's Douglas v Courcey Rovers followed at 6.30pm by Killeagh v Glen Rovers.
On Sunday, Castle Road at 2pm, it's a battle of the Saints, St Catherines v St Finbarrs. Blarney at 4pm is the venue for the meeting of Avondhu v Seandun while at the same time in Castlemartyr, it's Ballygarvan v Fr O'Neill's.
Coachford houses the meeting of Carbery v Carrigdhoun at 6pm, and finally on Monday night in Castle Road at 6.30pm, it's Sarsfields v Cloughduv.