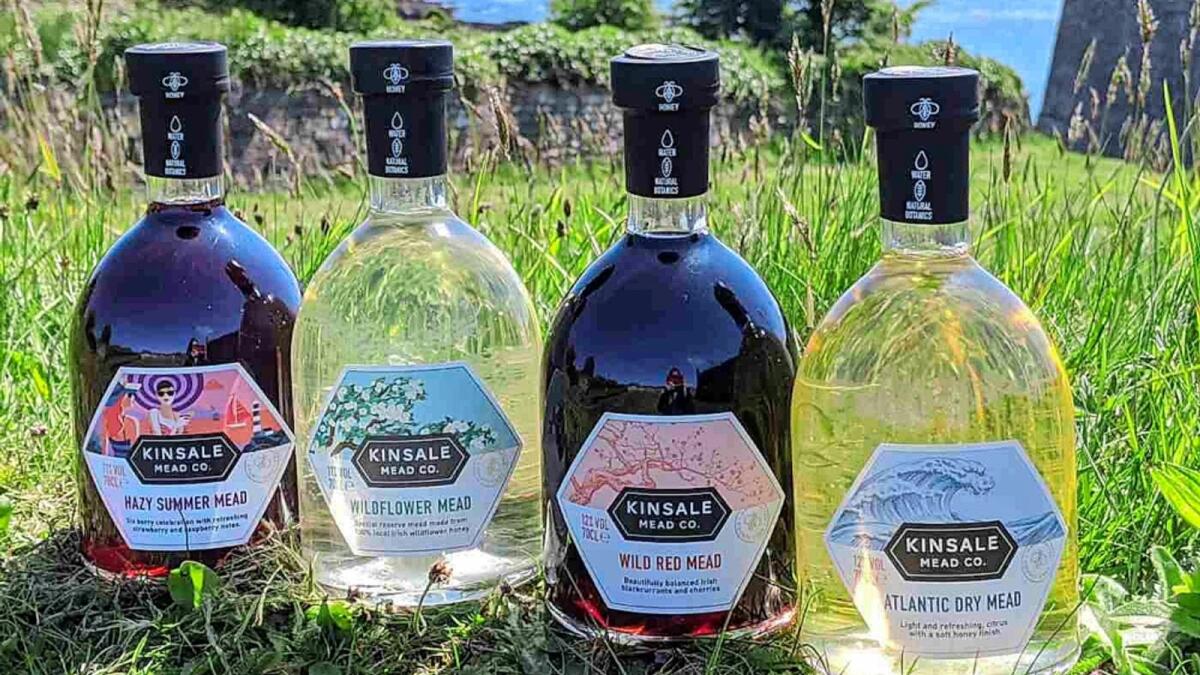 Proudly mead in Kinsale
It has been a while since I wrote about Kinsale Mead and how their mead was made traditionally.
I have a bottle of their Wild Red Mead - made with Irish blackcurrants and cherries, this liquor is rich flavoured with a dry note that is perfect for late summer evenings but also for evenings in front of the fire.
The Atlantic Dry Mead is exactly what it says on the tin but a bit too dry for me while the Hazy Summer Mead is lighter with a fruitier note.
I met co-founder Kate Dempsey and her husband at the Gifted fair in the City hall a few years back and loved their passion for the products.
We had a great chat and we stayed in touch ever since – so I was delighted when Kate emailed me the other day that they won yet another award – their trophy cabinet must be overflowing by now with so many awards under their belt.
The latest one is one they are especially proud of as their entire range was given the Best Drink in Ireland prize by the Irish Made awards – they were pitched against some great Irish producers so to take the top prize home must have been an amazing feeling for the team.
"This win for Kinsale Mead is a celebration of our Irish heritage and craft," said Brid O'Connell, CEO of Guaranteed Irish. And this heritage is what drew me to Kinsale Mead in the beginning as I love their ethos of bringing tradition together with modern technology and being as sustainable as possible, doing their bit to deliver a clean future to the incoming generations.
"There's a certain pressure being Ireland's first meadery in 200 years to re-create and re-imagine this wonderful honey drink from our Celtic past," said Kate Dempsey. "It's been a roller coaster ride so it's a lovely boost to get this kind of recognition for the care and hard work we put in to make world class meads in our family run meadery in Kinsale."
I do understand the pride Kate and Denis feel when talking about their mead and if you taste it, you will find that keeping things simple always pays off.
Mead is mainly made from honey and I only learned recently that Ireland is the third lowest producer of honey so the team has to import honey from Spain to make up for the lack of local honey.
This doesn't mean that they are not using Irish honey – they do. It is just that they wouldn't be able to meet demand for their amazing mead.
To fit into their aim on sustainability, Kate and Denis work with a Spanish honey co-operative that has been in existence for 100 years. To ensure the full flavour of the mead, only raw honey is used in the production process – and you will surely agree that it is worth putting the extra effort into the honey. That's something the judges at the Irish Made Awards agreed on.
Why not try a hot mead punch using the Atlantic Dry Mead? It's perfect for these cold evenings.
Or try this cocktail idea:
3 parts Wild Red Mead, 1 part crème de cassis, 2 parts of sparkling wine or prosecco with soda water to taste. Add mead and crème de cassis to a tumbler with ice. Add 2 parts of sparkling wine or prosecco. Top up with soda water to taste for bubblicious cocktails-at-home (recipe from Kinsale Mead).